What is an NMAT?
NMAT by GMAC or NMAT is a national-level MBA entrance test conducted for admission to NMIMS University and other reputed B-Schools in India. NMAT exam is a candidate friendly exam. It is designed keeping in mind the convenience of the test takers. Candidates are allowed to choose their preferred date during the testing window as well as self-schedule the test, appointment date, time and venue based on the availability of seats at each test centre.GMAC, the exam conducting body Graduate Management Admission Council (GMAC) is likely to announce NMAT 2021 in August. The exam is expected to be conducted between November and January. Last year, NMAT was conducted in two phases in test-centres as well as in an online proctored mode.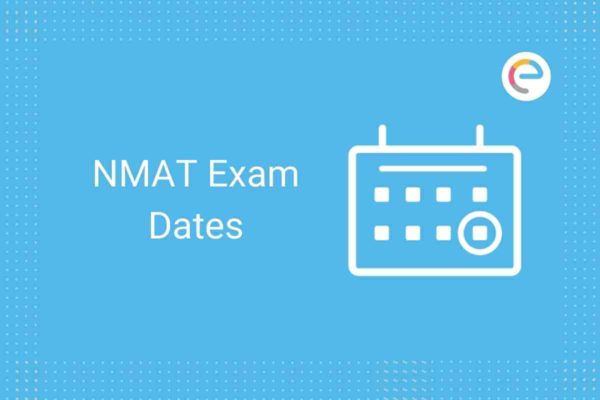 The other important aspects of the exam are:
The Graduate Management Admission Council (GMAC) conducts NMAT
NMAT is a unique MBA entrance exam similar to GMAT, wherein test-takers get a chance to attempt the exam thrice in a three-month test window
GMAC had revised the exam pattern of NMAT last year. The number of questions has been reduced from 120 to 108.
Candidates can either opt for appearing for the test from a designated test centre or an online remote proctored mode
NMAT Eligibility Criteria 2021
The exam conducting authority has specified the following eligibility criteria for NMAT 2021. Candidates need to fulfil eligibility requirements before applying for the entrance test.
Candidate must have completed graduation under 10+2+3 or four years of education pattern from any stream
Secured not less than 50 per cent aggregate in the final year of graduation
Candidates who are awaiting results or are in their final year of graduation are also eligible to apply for NMAT 2021. Admission is granted on a provisional basis until the graduation mark sheet and certificate of the qualifying examination are submitted
Candidates need to also check the eligibility criteria of NMAT participating colleges individually before registering for the examination. Applicants need to select five institutes of their preference for admission while applying and those institutes may have different eligibility criteria for admission.
NMAT 2021 Highlights
NMAT is one of the popular MBA entrance tests in the country. The table below covers some of the major highlights of NMAT by GMAC exam.
| Features | Details |
| --- | --- |
| Exam Name | NMIMS Management Aptitude Test |
| Conducting Body | Graduate Management Admission Council (GMAC) |
| Exam Level | National |
| Frequency | Once a year (88-day test window) |
| Mode | Online |
| Duration | 120 minutes |
| Syllabus | Language Skills, Quantitative Skills and Logical Reasoning |
| Pattern | 108 Questions |
| Language | English |
| Fees | Rs 2,000 |
| Exam Purpose | Admission into top business schools of India such as NMIMS, SP JIMR, ISB, XIMB, VIT, ICFAI, Shiv Nadar, SDA Bocconi, LM Thapar, etc. |
| Course Offered | MBA/PGDM |
| No. of Test Cities | 46 |
| Exam Helpdesk No. | 0120 4397855 |
| Exam Website | https://www.nmat.org/ |
NMAT by GMAC Exam 2021 Dates (Tentative)
NMAT 2021 schedule is expected to announced by GMAC in Auust. The examination conducting body will announce the new schedule soon.
| Events | Dates (Tentaitve) | Salient Features |
| --- | --- | --- |
| NMAT 2021 registrations- Main | First week of August 2021 to Third week of November 2021 | The registration process will begin on the official website |
| NMAT late registration 2021 | Third week of November 2021 to Fourth week of November 2021 | Late registration facility will be available on the official website |
| NMAT registration – Retake | First week of November 2021 to Third week of January 2022 | Candidates who wish to take the test again can apply for retakes |
| NMAT scheduling | Third week of September 2021 to First week of January 2022 | Candidates can book their exam slot during this period |
| NMAT 2021 Re-scheduling | Third week of September 2021 to Third week of January 2022 | Re-scheduling of exam facility available during this period |
| NMAT 2021 | First week of November 2021 to Fourth week of January 2022 | The exam is being held in an 88-day test window. Candidates can take the test as per the slot selected |
| Re-take scheduling | First week of November 2021 to Third week of January 2022 | Candidates who applied for a retake can reschedule their exam date |
| NMAT 2021 result announcement | Within two weeks of taking the test | The final scorecard will be released on the official website of NMAT by GMAC |
Top MBA Colleges Accepting NMAT Scores
Given below is the list of top colleges that accept NMAT score for MBA admission.
NMAT 2021 Admission Process
The admission process for NMAT includes six stages—filling of the NMAT 2021 application form, issuing of NMAT 2021 admit card, NMAT 2021 exam, declaration of NMAT 2021 result and NMAT 2021 selection process (Group Discussion and Personal Interview) of the shortlisted candidates. Each stage of the NMAT 2020 admission process is briefly explained below.
Stage 1: Filling of NMAT 2021 Application Form
The first step of the admission process starts with filling the NMAT 2021 application form. Candidates need to fill the NMAT application form within the stipulated time. Only successful applicants are issued NMAT 2021 admit card. NMAT 2021 application process is online and candidates need to create a login ID and password to complete the online registration process. The application fee is Rs 2,000 (excluding GST). The fee can be paid online using Debit Card, Master Card, Mobile wallet and other options.
After completing the registration process, the test reschedule option is enabled in the student account. In order to reschedule the NMAT 2020 test, candidates had to apply for the NMAT exam reschedule option in less than 72 hours from the date and schedule of the test. NMAT rescheduling steps can also be completed through the same student account. The retake fee is Rs 2,000 and the rescheduling fee is Rs 1,100. The late registration fee for NMAT will be Rs 2,500. The application fees for NMAT 2020 second phase was Rs 2,300 plus taxes. The fee for the second phase of the application was Rs 2,300 plus applicable taxes. 
Stage 2: Issuing of NMAT 2021 Admit Card
After NMAT 2021 application process is completed with payment of the application fee, candidates can book their preferable exam slot and download NMAT 2021 admit card at the same time.
Stage 3: NMAT 2021 Exam
NMAT 2021 is conducted in the Computer-based Test (CBT) as well as the Internet-Based Test (IBT) mode, wherein candidates can take the test from their home in an online remote proctored manner. The test-takers need to solve 108 MCQs in 120 minutes. There is a sectional time limit in NMAT 2021 exam. The online exam has three sections that are Language Skills, Quantitative Skills and Logical Reasoning.
Stage 4: Declaration of NMAT 2021 Result
The NMAT 2021 result is declared on the official website of NMAT by GMAC. The result can be checked online using login credentials. Candidates need to save the scorecard and take print outs of the result for future reference.
Stage 5: NMAT 2021 Selection Process
The next stage of the NMAT selection process is the Group Discussion and Personal Interview (GD & PI) round which is conducted by the participating institutes.
The participating institute may also decide to conduct WAT (Writing Ability Test) or Case Discussion (CD) round instead of the conventional GD round. The decision of final admission is based on the combined performance in NMAT online test and GD-PI round.
NMAT 2021 Test Centres
Check the table below to know all the test cities where NMAT by GMAC exam will be conducted.
NMAT Test Cities
North
East
West
South
Central
Agra
Bhubaneswar
Ahmedabad
Bengaluru
Bhilai
Allahabad
Guwahati
Aurangabad
Chennai
Bhopal
Chandigarh
Jamshedpur
Jaipur
Coimbatore
Indore
Dehradun
Kolkata
Jodhpur
Kochi
Jabalpur
Delhi
Patna
Kota
Hyderabad
Raipur
Faridabad
Ranchi
Mumbai
Manipal
Gwalior
Ghaziabad
Shillong
Nagpur
Mysore
Gurugram
Nashik
Tiruchirapalli
Jammu
Pune
Vellore
Kanpur
Surat
Vizag
Lucknow
Vadodara
Noida
In India, NMAT 2021 will be conducted in 66 test centres across 52 cities.
Also Read: NMAT Test Centres 2021
NMAT 2021 Test Locations Abroad
Find the list of countries where NMAT by GMAC 2020 exam will be held in the table below.
| Test Cities | Countries |
| --- | --- |
| Kathmandu | Nepal |
| Thimphu | Bhutan |
| Dhaka | Bangladesh |
| Colombo | Sri Lanka |
NMAT 2021 Preparation Tips
NMAT, like any other MBA entrance exam, is a speed-based test. Thus, the entire preparation must be aligned with this thought. Candidates need to follow NMAT preparation strategies, which helps them build speed and the accuracy level to answer questions in the test. In order to build speed and accuracy level, candidates need to catch hold of the best books for NMAT preparation, five years NMAT sample papers and attempt mocks. Keep the following points in mind to prepare for the test:
Devote three to four months to build conceptual clarity on topics included in the NMAT syllabus
Analyse your preparation level by practising NMAT question papers
Create notes of each topic while studying and revise them from time to time
Discuss your doubts with peers and mentors to clear them
NMAT by GMAC: Guidelines and facilities for students with disability
Test takers with disabilities will have access to special arrangements during NMAT by GMAC, including an accommodation facility. Such candidates should send a request to GMAC for the same while filling the NMAT application form.
Candidates with the following disabilities can avail this facility:
Mobility impairment
Learning disability
Blindness (low vision to no vision)
Leprosy
Cerebral Palsy
Others
Other arrangements made by GMAC for disabled candidates are:
Reader
Extra time
Large fonts
Mobility help
Note: Applicants with vision impairment are allowed to take assistance by a scribe. Candidates are also allowed to bring their own scribe, however, in this case, they need to seek approval by GMAC before taking the exam.  
NMAT Cut off
NMAT accepting colleges take into consideration both sectional and overall NMAT cutoff of the test takers. The cut off is expected to be around 210-270. Click on the college predictor button below to predict calls from NMAT accepting colleges.
Hello, Everyone My Name Thilagar And I Am A Website Developer And Blogger  We are here to provide update on daily basis about Indian Government Jobs in various sectors, We provide all this information as User-Friendly Content to job Seekers.