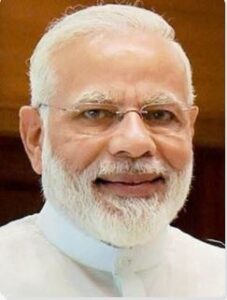 Narendra Modi
Biography
Narendra Damodardas Modi is India's 14th and current prime minister since 2014 after an impressive victory by Bharatiya Janata Party (BJP). An interesting fact about Modi is that he became Chief Minister of Gujarat as a first time MLA. Similarly he became the prime minister of India as a first time MP. Modi is credited with leading the BJP in 2014 to a majority in Lok Sabha and this is for the first time since 1984. Born to a Gujarati family in Vadnagar, Modi had humble beginnings when he helped his father sell tea following which he set his own tea-stall allegedly.
Modi was introduced to the RSS at the age of 8 and from there began a long association with the organisation. He was assigned to the BJP in 1985. Narendra Modi assumed the office of the chief minister, Gujarat in 2001 and remained in office until 2014 when he contested Lok Sabha election and became the prime minister of India. In 2019, he was sworn in as prime minister of India for a second term.
Personal Life
Full NameNarendra Modi
Date of Birth17 Sep 1950 (Age 70)
Place of BirthVadnagar, Mehsana (Gujarat)
Party name Bharatiya Janta Party
EducationPost Graduate
ProfessionSocial Worker
Father's NameDamodardas Mulchanddas Modi
Mother's NameSmt. Hiraben Damodardas Modi
Spouse's NameSmt. Jashodaben Modi
Spouse's ProfessionHousewife
Contact
Permanent addressC-1, Someshwar Tenament,Ranip, AhmedabadGujarat – 382 480
Present address7, Lok Kalyan Marg,New Delhi – 110 011
Contact number079-23232611
Websitehttp://www.narendramodi.in
Interesting Facts
Modi, as a child, not only supported his family but also extended support to Indian Army soldiers. During the Indo-Pakistan War of 1965, he would rush to serve hot masala chai to soldiers when the train would arrive at the local railway station.
During his school days, PM Modi acted in a number of plays. He was barely 13 or 14 when he enacted a play to raise funds to repair a broken wall of his school in his hometown.
Inspired by the growing gipsy culture, PM Modi, during his adolescence, spent around two years travelling around India. He returned to Gujarat after visiting various religious centres across the country.
Political Timeline
2019Indian PM Narendra Modi has secured another five-year term after winning a landslide general election victory.
2014Narendra Modi was elected as 14th and current Prime Minister of India. Modi was sworn in as the Prime Minister of India on 26 May 2014. He became the first Prime Minister born after India's independence from the British Empire.
2012Modi again elected from Maninagar. This time he defeated Bhatt Shweta Sanjiv by 34097 votes. He again took oath as chief minister (fourth term). Later he resigned from assembly in 2014.
2007On 23 December 2007, Modi's third term as CM started and completed on 20 December 2012. This time again he won from Maninagar. He defeated Dinsha Patel of Congress.
2002He contested from Maninagar and won the assembly election. He defeated Oza Yatinbhai Narendrakumar of Congress by 38256 votes. He was retained as Chief Minister of Gujarat. (Second Term).
2001Keshubhai Patel's health was failing and the BJP lost a few state assembly seats in by-elections. The BJP national leadership replaced Patel with Modi as Chief Minister of Gujarat. On 7 October 2001, Modi took the oath as CM of Gujarat. On 24 February 2002, he won by-election to the Rajkot – II constituency. He defeated Ashwin Mehta of the INC by 14,728 votes. This was his first and very short term.
1995He was elected BJP national secretary and transferred to New Delhi. He headed the election campaigns of Haryana and Himachal Pradesh. Modi was promoted to BJP general secretary (organisation) in 1996.
1990Modi helped in organising L. K. Advani's 1990 Ram Rath Yatra in 1990 and Murli Manohar Joshi's Ekta Yatra in 1991–92.
1987Modi was elected as organising secretary of the BJP's Gujarat unit.
1986After L. K. Advani, Modi became president of the BJP. That time RSS decided to place its members in important positions within the BJP.
1985Modi was assigned by the RSS to the BJP. Later in 1987 Modi helped to organise the BJP's campaign in the Ahmedabad municipal election. BJP won that election.
1979He went to work for the RSS in Delhi. where he was put to work researching and writing the RSS's version of the history of the Emergency.
1978He became an RSS sambhag pracharak. Associated with RSS activities in the areas of Surat and Vadodara.
1975Narendra Modi was appointed as general secretary of the "Gujarat Lok Sangharsh Samiti" by RSS. During Emergency, Modi was forced to go underground to avoid arrest. He was involved in printing pamphlets opposing the government.
Early Life
1967He completed his higher secondary education in Vadnagar. Due to family tension, he left home. Modi spent around two years travelling across Northern and North-eastern India.
1960sAs a child, Modi helped his father sell tea at the Vadnagar railway station. Later he ran a tea stall with his brother near a bus stand.
Net Worth₹ 2.51 CRORE ASSETS₹2.51 CRORE
Liabilities₹ N/A
Disclaimer: The information relating to the candidate is an archive based on the self-declared affidavit filed at the time of elections. The current status may be different. For the latest on the candidate kindly refer to the affidavit filed by the candidate with the Election Commission of India in the recent election.
Hello, Everyone My Name Thilagar And I Am A Website Developer And Blogger  We are here to provide update on daily basis about Indian Government Jobs in various sectors, We provide all this information as User-Friendly Content to job Seekers.