TNSTC e-Ticket Reservation, Main Passenger name has to match the name in the ID card carried by For any assistance, refer "Ebooking 
TNSTC e- Tickets Reservation
Main Passenger name has to match the name in the ID card
carried by the passenger during travel.
For any assistance, refer "Ebooking / Registration Help".
The seat(s) booked under this ticket is/are not transferable.
The e-ticket is valid only for the seat number and
bus service specified.
The e-ticket has to be carried by the passenger during the journey along with
an ID Card of the passenger whose name appears in the ticket.
Please keep the ticket safely till the end of the journey.
Please show the ticket at the time of checking.
Corporation reserves the rights to change/cancel the class of service.
Step1: User Registration
Username, Password, Confirm Pass, Full name, Mobile no
Step2: User Login
Step3: Search & Book Tickets (Select From & To Places)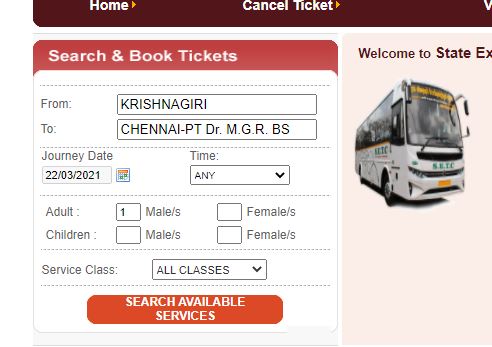 Step4: Select Layout & Enter Passenger Details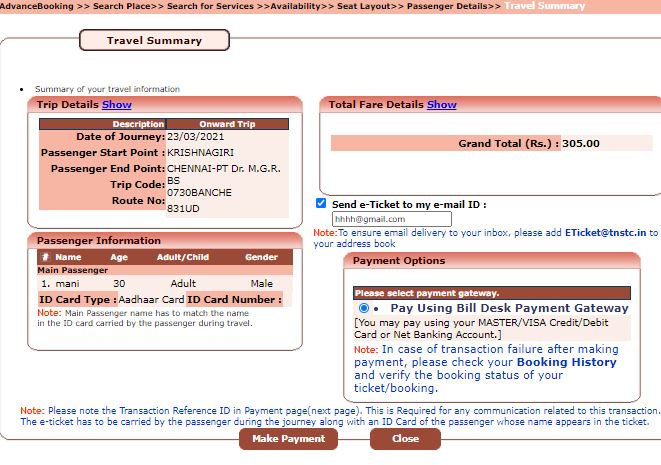 Step5: Payment Page
Select any one payment method
Your tickets will be sent to your Registered Email id
Step6: View & Print tickets
Contact Number
Hello, Everyone My Name Thilagar And I Am A Website Developer And Blogger  We are here to provide update on daily basis about Indian Government Jobs in various sectors, We provide all this information as User-Friendly Content to job Seekers.