Article Rewriter Tools?
There are many new bloggers, SEO experts, and even students who are looking to spin and generate 100% plagiarism-free content. But with so many article spinner software available in the market, it becomes difficult to choose the ideal one.
Moreover, even if you cross your fingers and purchase the article rewriter tool, the content generated by it is of no use. That is, either it fails the plagiarism test or sounds robotic.
However, this is going to change today. In this blog, I am going to list 7 best article rewriter and article spinner software that are renowned for their content paraphrasing services.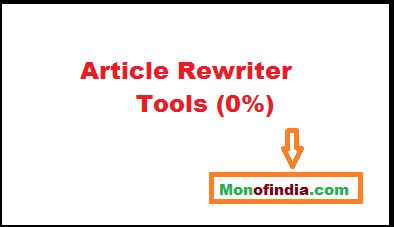 Overview
The Best Spinner 4
Spin Rewriter
CleverSpinner – Free 3 days trial
Chimp Rewriter
Spinner Chief 6
WordAi
Spinbot
Article Rewriter Tools
Article rewriter tools are software or online applications that automatically rewrite or paraphrase the inputted content into multiple different versions, without losing its meaning.
In order to use them, all you have to do is copy your content and paste it in the article spinner content (input) box.
The inputted content is regarded as the original content and the output is called spun or paraphrased content.
Mind you, the content spinning process is fully automated.
Yes, absolutely. Article spinning or article rewriting is perfectly legal.
A few years back when article spinner tools hit the digital marketing industry, it was highly frowned upon and also considered as a black hat SEO tactic.
But over the years, it has gained some positive feedbacks and users. Moreover, its users have started using it for the right purposes rather than exploiting it for the wrong means.
So, as long as you don't blindly copy the original content for your own project (blog, report, assignments, etc.), you won't be facing any legal issues.
Can Use Article Spinner Software
Article spinners can be used by anyone that has anything to do with content or written articles.
For example, SEO experts use article rewriter to create multiple versions of their own content (if required). This ensures that their websites don't have any duplicate content.
Apart from this, students love these article spinning tools as they are able to paraphrase their assignments or projects with ease.
So, if you are involved with written content (or even verbal), you can use these tools to reap maximum benefits.
Does Article Spinning Still Work
If you'd have asked me this question a few years back then I would have said no.
But now, article spinner software has become so smart and sophisticated that it generates perfectly readable content.
In addition to keeping the original meaning of the content intact, the tools are now capable of spinning contents into multiple languages.
That's why many bloggers and SEO experts have employed it in their working habits.
Now that you know the basics and have also cleared some doubts, it's time to explore all the best article rewriter & article spinner tools in detail…
1. The Best Spinner 4 – Best Article Spinner Software
The Best Spinner 4 is the 4th version of its predecessor. This means that the team behind this article spinner tool has refined it to the point where it is now regarded as the best article spinner.
As of now, The Best Spinner 4 is close to catering 100,000 users. And, all of its users are highly satisfied with its article spinning capabilities. It is so efficient that one of the famous marketers, Matthew Woodward has personally recommended it to his followers.
The Best Spinner 4 Pricing
Despite being regarded as the best article rewriter software, The Best Spinner 4 has kept its pricing highly affordable. As of now, it offers 3 different pricing plans with yearly access.
Basic – This plan is ideal for casual users and would come at the price of $67/year. This grants complete access to the tool but only 30 monthly credits for audio conversion and no bonuses.
Standard – It is the most sought-after plan of The Best Spinner 4 and has the price tag of $127/year. This plan offers complete access to the tool but with 60 monthly credits for audio conversion. All the bonuses are also included in this plan.
Pro – At $247/year, you could extend your monthly audio conversion limit to 300. Apart from this, you get complete access to the software along with bonuses.
2. Spin Rewriter – Top Article Rewriter
If you do not want to compromise with the meaning of your article or content after spinning then you should definitely try Spin Rewriter. It is known to generate content with the human-like quality.
Because of this, over 150,000 users including SEO experts, bloggers, students, translators, etc. have been actively using Spin Rewriter. Trust me, it's that powerful.
Spin Rewriter Pricing
You must be thinking that it would be expensive after seeing the feature set of Spin Rewriter. On the contrary, Spin Rewriter is quite cheap and available with monthly, yearly, or lifetime plans. Also, you'd be glad to know that all the plans offer unlimited access to the tool.
Monthly – It would cost you $47/month for using Spin Rewriter.
Yearly – This plan comes at $77/year (5 days free trial) and also offers a couple of exciting bonuses.
Lifetime – At $497, you could secure the lifetime access to Spin Rewriter.
3. CleverSpinner – Cheapest Article Rewriter
I would be completely honest with you, CleverSpinner was not in the initial draft of this blog post. But when I personally went ahead and tried this article spinner tool by myself, I was blown away by its performance. Believe me, when I say, it is intelligent enough to spin the content as if it is written by a native English speaker.
Not just this, among all the article rewriters mentioned in this blog, CleverSpinner happens to be the cheapest and the simplest. All it takes for you is to copy & paste the content, press a button, and you will get the spun content in a matter of few seconds.
CleverSpinner Pricing
Just as I emphasized earlier, CleverSpinner is the cheapest article rewriter tool mentioned in this blog. With that being said, the inexpensiveness of CleverSpinner doesn't mean it isn't efficient enough. On the contrary, the quality of CleverSpinner is unparalleled.
CleverSpinner offers just a single plan with 3 days trial period –
A basic fee of $9.90 per month that offers complete access to the software.
4. Spinner Chief 6 – Best Article Spinner
Among all the best article rewriter & article spinner tools, Spinner Chief 6 provides advanced article spinning features. It is so robust with its content rewriting skills that the content generated after spinning seems to be written by an actual human.
In addition to this, Spinner Chief 6 uses Natural Language Analysis and A.I. technology to understand the meaning of original content before spinning. This ensures a better quality of article rewriting.
Spinner Chief 6 Pricing
In addition to the above-mentioned features, Spinner Chief 6 has the widest range of other advanced article rewriting features. Hence, keeping this trend of offering many things, Spinner Chief 6 offers plenty of flexible pricing plans.
For Personal Users
There are 3 different versions with different billing cycles under this category.
Free – Spinner Chief 6 is available as a free article spinner. But keep in mind that the free article rewriter version of Spinner Chief 6 would only offer basic features.
Elite – The Elite plan would include a few advanced features of Spinner Chief 6 and would come with the one-time payment of $87.
Ultimate – This plan offers maximum benefits and all the features (expect team features) to personal users. It has 5 different sub-plans with different billing cycles.

#1 – One-time fee of $135

#2 – An yearly subscription worth $46/year

#3 – $23/month for monthly subscription

#4 – An initial charge of $7 for 3 days. After that, a yearly subscription of $53/year

Option 5 – Try it for $7 for 3 days then pay a $149 one-time fee.
For Team Users
If you run an SEO agency, this pricing category will suit you the most. The pricing is built around the number of team members and offers either lifetime or yearly access to the article rewriting tool.
For 3 Team Members – The first option is a one-time fee of $273. The second option offers a yearly billing option with a price tag of $122. Lastly, the third option offers a 3 days trial at $7 which is followed by a one-time fee of $280.
For 5 Team Members – Similarly, the first option is $413 one-time payment, second is $204/year and the third option is $7 for 3 days trial and a $420 one-time fee.
For 10 Team Members – Spinner Chief 6 for 10 team members is available at 3 different costs i.e. $689 (one-time fee), $273/year, and $7 (3 days trial) + $696 one-time payment for lifetime access.
5. WordAi – Article Rewriter Software
WordAi is one such article spinner tool that is known to generate human quality content while being extremely easy to use. Yes, WordAi users also love its simple user interface.
But being simple or easy to use doesn't affect its efficiency. That is, WordAi, just like other article spinners is packed with artificial intelligence that understands the context of words before spinning.
WordAi Pricing
With regard to its usability, the team at WordAi has also kept its pricing plans extremely simple and inexpensive. Right now, WordAi is available to use with either monthly or yearly subscription, with a 3 days trial period. Also, both of these plans provide all the features of WordAi.
Monthly Turing Plan – You can sign up on this plan by paying $49.95/month.
Yearly Turing Plan – At $347/year, you can get the yearly access to WordAi.
Online Content to Rewrite Check Result Below Image Shown
Click here to Go Check link: https://articlerewritertool.com/
FAQs:
Hello, Everyone My Name Thilagar And I Am A Website Developer And Blogger  We are here to provide update on daily basis about Indian Government Jobs in various sectors, We provide all this information as User-Friendly Content to job Seekers.